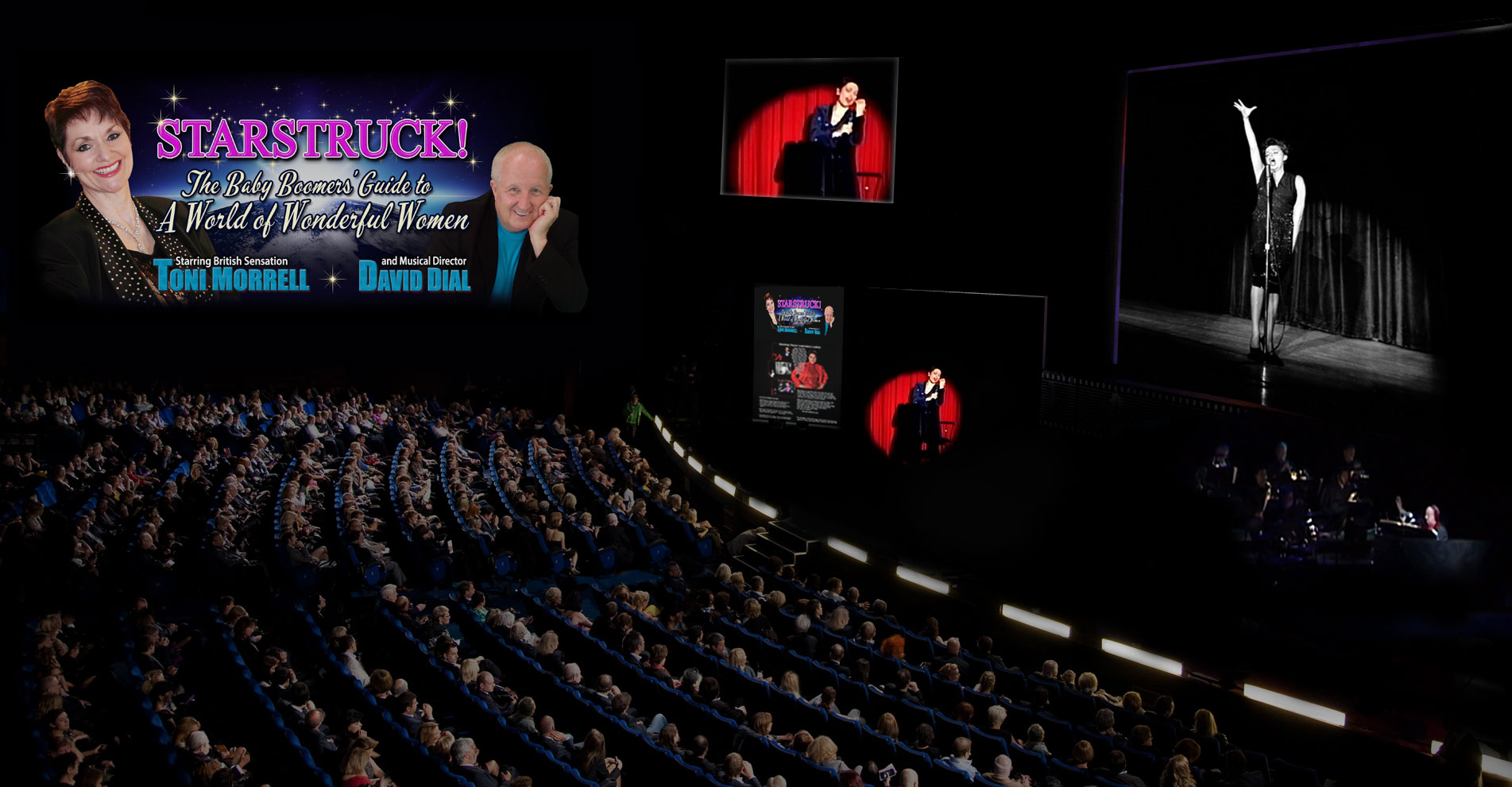 "TONI MORRELL IS INCREDIBLE!!!! This is an absolutely GREAT show and my audience loved it! Toni & David – you are at the Top of my "Super A List!" – LYNN GARLOCK WRIGHT / Activities Director / SUN CITY ALIANTE
STARSTRUCK!
The Baby Boomers' Guide to A World of Wonderful Women
A celebration of your favorite females from film, stage, television and music, from the 50's through the 80's.
In the tradition of "
The Captain & Tennille
" and "
Sony & Cher
", the dynamic Husband-Wife team of
TONI MORRELL
and
DAVID DIAL
star in "
STARSTRUCK! The Baby Boomers' Guide to A World of Wonderful Women
", a Concert Tribute Show that combines (1) live musical performances of some of the best-loved songs from the American and Broadway Songbooks, with (2) glamorous on-screen video images, (3) an ecclectic array of dramatic, poignant and comedic performance moments and (4) "Hollywood Confidential" type behind-the-scenes stories… all culminating in an entertainment package that pays loving homage to a host of Lady Luminaries of Film, Stage, Music and Television.
This "Tribute Show Like No Other" celebrates an incredible assortment of the most unforgettable and talented women to ever grace the World Stage… past and present; not with impersonations (although there are a few), but through the electrifying singing voice, story-telling prowess and quirky English humor of British Singer-Entertainer-Comedienne, TONI MORRELL, along with additional vocalizations and superb orchestral accompaniment performed and arranged by the show's featured Musical Director and Multi-Keyboard Maestro, DAVID DIAL.
Audiences proclaim: "☆☆☆☆☆ 5 out of 5 stars" on Goldstar.com.
"5+ out of 5 Stars" – Broadwayworld.com
"One of the greatest nights of theater I have ever seen!" – Shirley Jones