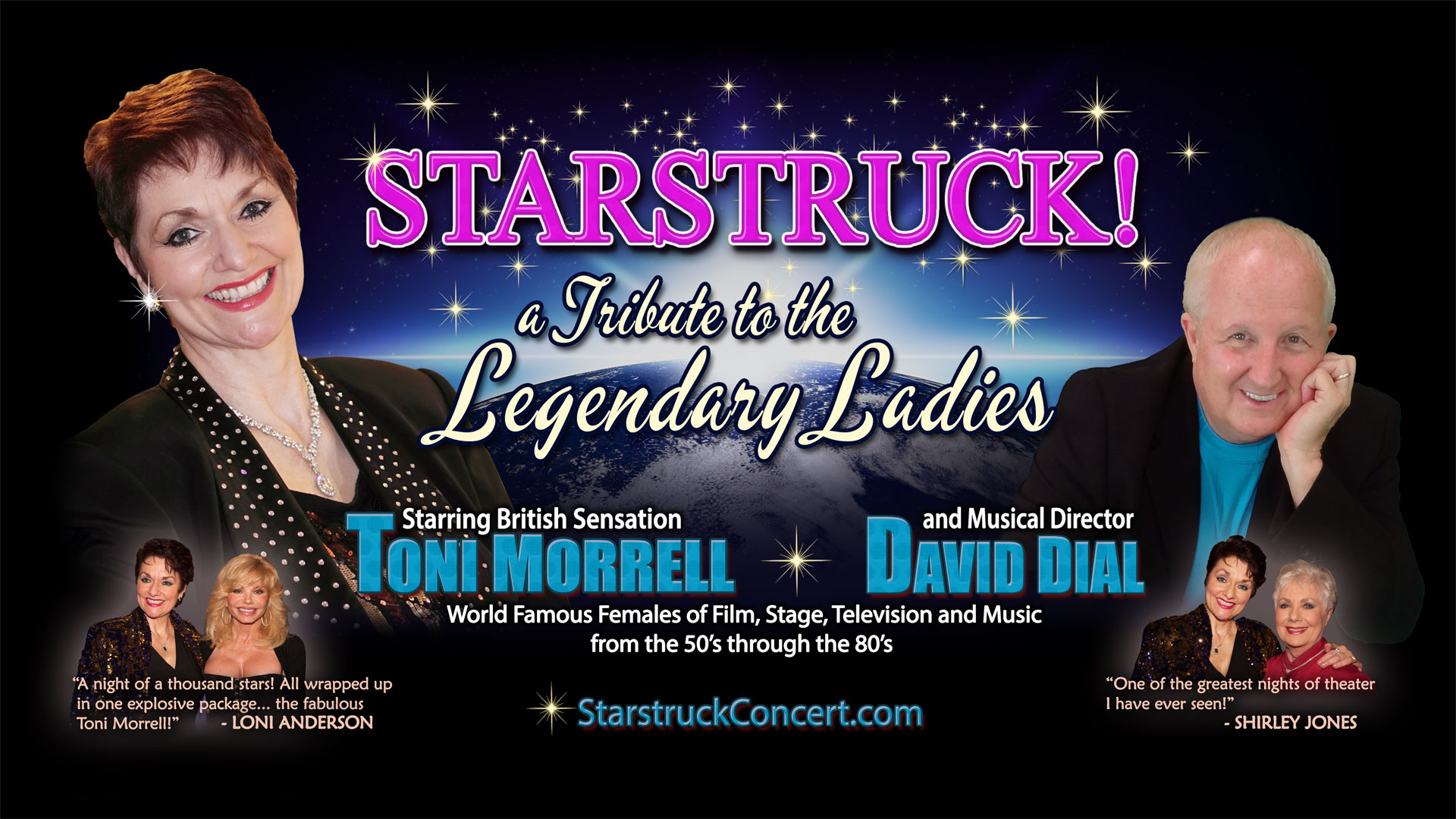 STARSTRUCK!
A Tribute to the Legendary Ladies
– World famous females of film, stage, television and music, from the 50's through the 80's. –
"5+ out of 5 Stars" – BroadwayWorld.com
"One of the greatest nights of theater I have ever seen!" – Shirley Jones

Based out of Southern California, "STARSTRUCK! A Tribute to the Legendary Ladies" is truly "A tribute show like no other", because it is not the standard fare, "look-alike/sound-alike", impression show or recreation of a past band, singing group or entertainer. And although it does contain a few impressions, it instead pays tribute and homage by celebrating the personal and artistic contribution made by a multitude of famous legendary women from the Movies, Broadway, TV and Music, from the 1950's through the 1980's…
How? By honoring the legacy of these legends through the highly entertaining and artistic performance of its star, International British Singing Sensation Toni Morrell, and its Musical Director, multi-keyboard Maestro David Dial, as they sing and present a wide variety of America's favorite songs (in many genres), with fabulous musical arrangements, and including a host of comedy bits and a sprinkling of informative, seldom-heard, "Confidential" type stories; all-the-while accompanied by captivating and elegant video images; all these factors combining to deliver an unforgettable entertainment experience for your audience.
Masterfully Entertaining, Poignant, Unique, Nostalgic, Educational too; A great show for all ages, particularity the Baby Boomer and Gen X audience (and ideally suited for stimulating the memories of dear ones who may be slipping into dementia or Alzheimer's). Rated 5-Stars and voted "Best Solo Show in California Theatre" and "Best Special Theatre Event Los Angeles" by BroadwayWorld.com. This show was also the Headliner entertainment for the Red Hat Society International Convention, held at the Paris Hotel, Las Vegas. ( READ MORE… )
ACCESS our ELECTRONIC PRESS KIT including the EXTENDED VERSION of our PROMO VIDEO:
CLICK HERE
View a full-length segment from one of our LIVE shows!