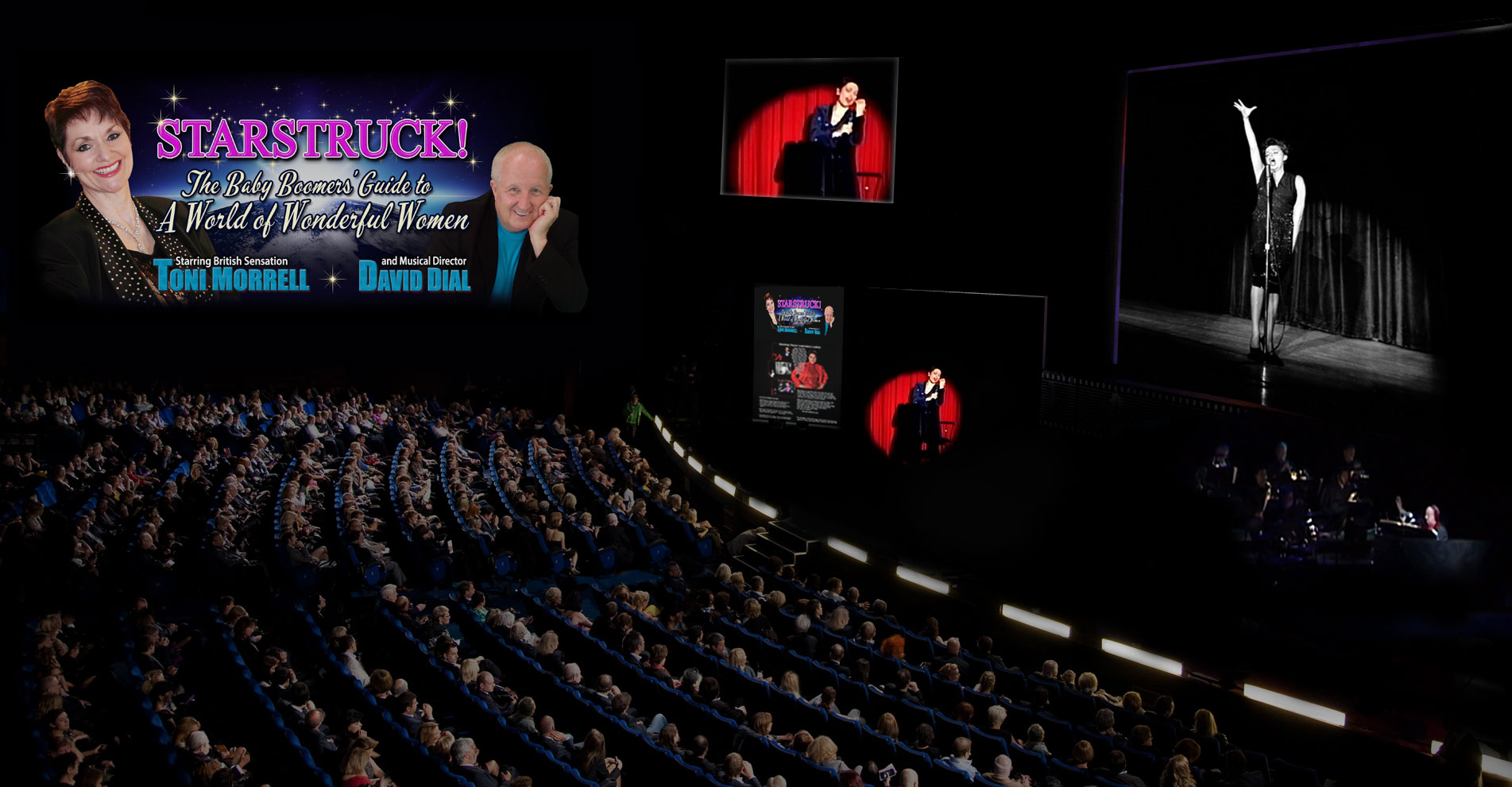 "TONI MORRELL IS INCREDIBLE!!!! This is an absolutely GREAT show and my audience loved it! Toni & David – you are at the Top of my "Super A List!" – LYNN GARLOCK WRIGHT / Activities Director / SUN CITY ALIANTE
STARSTRUCK!
The Baby Boomers' Guide to A World of Wonderful Women
Paying Tribute to Legendary Ladies Past, Present and Immortal
A TRIBUTE SHOW LIKE NO OTHER !
Celebrating some of the most Unforgettable Ladies to ever grace the World Stage!
"5+ out of 5 Stars" – Broadwayworld.com
British Singer-Entertainer-Comedienne,
TONI MORRELL
, delivers a world-class performance celebrating some of the most unforgettable ladies to ever grace the World Stage.
Saluting such legendary ladies as Dame Shirley Bassey, Edith Piaf, Barbra Streisand, Debbie Reynolds, Liza Minnelli, Cher, Bette Midler, Marlene Dietrich, Lucille Ball, Carol Channing, Peggy Lee, Lena Horne, Tippi Hedren and Shirley MacLaine, this show also features a special segment comparing the lives of Marilyn Monroe and Princess Diana, as well as the true story behind The "Hitchcock Blondes", a sexy "Baby Boomer Dream Girls" segment and one of the most powerful and electrifying tributes to the legendary Judy Garland ever seen on a stage.
STARSTRUCK! The Baby Boomers' Guide to A World of Wonderful Women gives a heart-felt and positive glimpse into the lives of many Lady Luminaries of Film, Stage, Music and Television as it features some of the best loved songs from the American and Broadway Songbooks, along with elegantly crafted, captivating video and superb orchestral accompaniment performed and arranged by Musical Director and Multi-Keyboard "Wizard", DAVID DIAL.
A CRITICALLY ACCLAIMED SHOW WITH A BRAND NEW NAME
"STARSTRUCK! The Baby Boomers' Guide to A World of Wonderful Women" (under its previous title of "Remembering The Ladies") was voted "Best Solo Show in California Theatre" and nominated "Best Special Theatre Event in Los Angeles" by BroadwayWorld.com. The original production was directed by celebrity television producer, Karen G. Cadle (Lifestyles of the Rich & Famous; The Whoopi Goldberg Show; KarenCadleInternational.com)
Audiences proclaim: "☆☆☆☆☆ 5 out of 5 stars" on Goldstar.com.
Paying Tribute to Legendary Ladies Past, Present and Immortal